Homes & Antiques magazine, September 2022 issue
South England Prestige Awards Winner 2021/22
South England Prestigious Awards Winner 2020
Delighted to announce that we have won the Vintage Clothing Store of the Year for the South East!
Luxury Travel Guide Best Vintage Wedding Dress Supplier
We won the best vintage wedding dress supplier , in the Luxury Travel Guides!
The Telegraph's 'Britain's Best Vintage Shops'
Brighton:
"Elegant is the adjective frequently used to describe Hope & Harlequin, a long-standing boutique that specialises in beautiful gowns from bygone eras (and wedding gowns – both vintage and made-to-measure from old patterns). If you're after a showstopping, one-of-a-kind piece, make this your first port of call before dropping into Snoopers Attic and the town's outpost of London favourite Beyond Retro."
Love My Dress
This lovely 'Bardot inspired shoot' on 'Love My Dress' , styled by Kate at The National Vintage wedding fair features one of our new made to order wedding dresses, the NOVA dress.

Love My Dress 
We are proud to be featured on 'Love My Dress', with the beautiful 'Sarah Arnett' Delphine wedding dress.
www.lovemydress.net/blog/


Sussex Style Magazine
A gorgeous 1920s styled shoot for Sussex Style Magazine.
The New York Times
A great mention in the NY Times by the fabulous Susie Cave.

Downton Abbey
Occasionally, you can spot gorgeous H&H gowns on screen. Here are two of our heavenly 1920s numbers, worn by cast members of Downton Abbey for the show's Christmas special.

Love My Dress
We were delighted to take part in this gorgeous Dutch Masters inspired shoot for the fantastic Love My Dress blog. Click here to see the article...



The Telegraph Magazine, Anna Murphy

"HAVE SOMEONE ELSE TAKE THE HARD WORK OUT OF VINTAGE SHOPPING"

"Lots of women think vintage isn't for them. They feel either that it's too old (and, at worst, smelly) or that they're too old. I never used to be able to pull it off myself, tending to be overwhelmed by the shopping process (so much stuff!) and to end up looking crumpled, not cool. Then I discovered that the key, like so much in life, is to get someone else to do the hard work for you. Find a shop/website that edits and merchandises a good-quality (and spanking clean) "collection" that coheres and chimes with your own aesthetic, and you have an original way to augment your wardrobe."
1960s Kenneth Lane earrings, £200 and 1940s glass flower brooch, £115; both electica.biz
"Favourite haunts of mine include Hope & Harlequin in Brighton (hopeandharlequin.com); Vintage to Vogue in Bath, which provides costumes for Downton Abbey (vintagetovoguebath.co.uk); Past Caring in Holt (pastcaring.net); and palette-london.com. A great way to start is with jewellery. I love Eclectica, which sells at 16 branches of John Lewis, and online (at eclectica.biz). Please tweet me @AnnaGMurphy to share - if you dare - your own vintage treasure chest."
FOLLOW ANNA ON TWITTER @ANNAGMURPHY 

Time Out
Time Out , travel guide. '20 great things to do in Brighton'.

'2. Be independent on North Laine
"Head left out of the station, down Trafalgar Street, and you're plunged straight into North Laine's narrow streets – populated with a highly browsable array of independent stores. Three main shopping drags thread through its heart – Sydney Street, Kensington Gardens and Gardner Street – although forays into the terrace-lined backstreets can also reap rich rewards. Locals love a bric-a-brac fix, and tat and treasures abound in the famous Snooper's Paradise (7-8 Kensington Gardens, 01273 602558). Squeeze through the turnstile to browse its myriad stalls, crammed with everything from bags of buttons and Bakelite telephones to stylish 1960s lamps.

For vintage clothes, head for To Be Worn Again (12 Kensington Gardens, 01273 687811) or the super-stylish Hope & Harlequin (31 Sydney Street, 01273 675222, www.hopeandharlequin.com), whose swing coats and lace '50s frocks ooze old-school glamour.

If you're more of a thoroughly modern Millie, Tribeca (21 Bond Street, 01273 673755) has a beautifully edited selection of womenswear labels, with an understated, grown-up feel: Isabel Marant is a favourite here, along with the likes of Vanessa Bruno, American Retro and Paige jeans.

Slip into Brighton's mod vibe at men's clothes shop Jump the Gun (36 Gardner Street, 01273 626333, www.jumpthegun.co.uk), the place for Fred Perry wearers and Lambretta lovers – there's always one parked outside. Complete the look with a pork pie hat from Mad Hatters (89 Trafalgar Street, 01273 688488, www.madhattersandfriends.co.uk), which stocks all manner of hand-made headgear.

And finally, in a city long associated with dirty weekends, it seems only right to drop by sex toy boutique Lust (43 Gardner Street, 01273 699344, www.lust.co.uk)." 

Homes & Antiques Magazine



Wonderful feature in 'Festival Brides'

Absolute magazine
Wedding special


BN1 Magazine

Absolute Magazine


Absolute Brighton & Hove


Lauren Laverne in The Observer
 Lauren Laverne on fashion: wedding dresses
"The big day doesn't need to mean a big budget. Say 'I do' in a dress that is both stunning and affordable"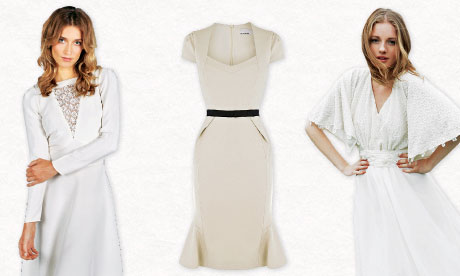 "I love a wedding. What's unadorable about a day that begins with profound declarations of devotion closely followed by lunchtime booze and cake, and ends with you dancing to Chic with a handsy usher? I attended my first this year a few weekends ago, when the snow was still sparkling on the branches of the trees outside. The happy occasion prompted me to consider wedding style, the best of which – for me – is on the affordable side.

Mr Laverne and I tied the knot pretty young, which was good for a number of reasons, but mostly because we hadn't been to any weddings. So we didn't know the Wedding Rules, including the one about the almonds (I still don't know what they're for), the one about wedding stationery (as opposed to a computer invite knocked up by your artsy mate) and the one about spending wads of cash. Yes, putting yourself into penury for a lavish wedding was quite the thing in the noughties, along with lashings of Coldplay and obligatory Big Day spray tans. Not so now. Even those blessed with cash to splash are keeping their nuptials under the top.

This means a boom in affordable wedding wear. A relative concept, of course. For the purposes of this piece, it's gorgeous gowns starting at around £100 and never more than £1,000. Here's my pick of the season…

First, Minna. Her "eco-luxe" label was already a must for ethical fashionistas, and she has recently branched out into bridal. Her second wedding collection, Love Letter, comprises 20 gowns which are handmade in beautiful fabrics, priced between £360 and £800.

Free Spirits should check out Free People – bohemian wedding wear for rock'n'roll brides. This season's selection is particularly worth a look if you're planning a beach wedding – there's lots of cool crochet.

There are some great options on the high street. This structured Karen Millen number would look incredible on the woman of the hour at a smaller do, but you don't have to go short if you're spending less. I love this Coast mermaid dress and Ted Baker's show-stopping botanical-print maxi.

Secondhand is a great option. If you're not lucky enough to inherit a dress, there are plenty of boutiques to help you purchase a piece of history, as well as the usual auction-site suspects. Vintage can be as expensive (if not more!) than buying new, so choose wisely.

Online I liked Abigail's Vintage Bridal, which you can search by era, from the 20s to the 80s. I also loved Hope & Harlequin, which offers reconditioned one-offs starting at around £150. And please check out the fully fabulous Fur Coat No Knickers, a vintage emporium founded by two former West End costume designers. They offer period dresses but – as so much of the genuine article was on the small side – decided to create a range of their own that runs to a size 22."

Follow Lauren on Twitter @LaurenLaverne 

Absolute Brighton & Hove


Absolute Brighton & Hove


Red Magazine


Vogue.com




Latest 7 Magazine



Etc. Magazine

British Vogue




Brighton's Arty Magazine



Absolute Magazine
Hello Magazine
 Noir magazine UK
 Vogue.com (Livia Firth's blog)
 
Marie Claire     

Source
Homes & Antiques Magazine
 Glamour Magazine
Absolute Brighton 
Source
Ruffled Blog
  Visit Brighton

The Sunday Telegraph


Blogs and online Magazines

www.vintageweddingfair.co.uk
Check out Anna and Timmy's amazing account of their special - extraordinary!

www.ceribethan.com
Actress Ceri Bethan dazzling in an H&H vintage original at the Los Angeles BAFTA awards season tea party.

http://www.travellingshopaholic.com/a-locals-guide-to-shopping-in-brighton/

www.vogue.co.uk
'Best 100 Shops Outside London'

Vogue.com
Livia Firth's blog

Ruffled Blog 
Wedding dress from us

Noir Magazine
(p42 -47)

Catwalk Queen

Lark Rising Blog

Queen-Tree Blog

Your fabulous Style

Follower of fashion

Luxe Notes

TNT magazine